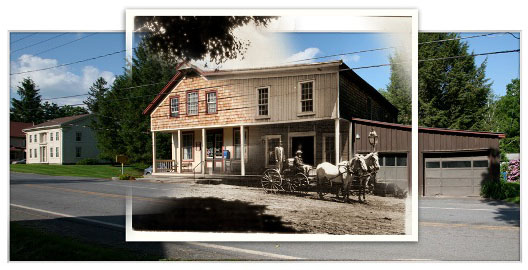 What follows below is a general history the Town of Middletown, which encompasses the two incorporated villages and several hamlets. To link to information about each of these particular communities, use the buttons below.

Long before Middletown was Middletown, this area was occupied seasonally by Lenni Lenape (Delaware) Indians. The Lenni Lenape were named by the English the "Delaware" Indians as they lived on the shores of Delaware Bay and the river that emptied into it.
They were an Algonquian speaking tribe (as opposed to Iroquoian), and their territory ran from the headwaters of the Delaware and Susquehanna Rivers south to the Potomac. The Oneidas and Tuscaroras occupied lands to the north and west; the Mohicans, Esopus and Wappingers to the south and east.
The Munsees were one of two subtribes of the Lenni Lenape and it is the Esopus band of Munsees that is believed to have seasonally occupied a site along the East Branch of the Delaware River between Arkville and Margaretville, shown on early maps as "Pakatakan." Many stone tools and arrowhead found on river flats along the East Branch attest to these earliest residents.
The Hardenburgh Patent and Early Settlement 
At about this time, wealthy British interests were busy carving up the region via the 1,500,000-acre Hardenburgh Great Patent of 1708, the largest one ever granted by the British crown. It was named for Johannes Hardenburgh, one of eight patentees who formed a cartel of entrepreneurs and gentry linked by family, religious affiliation, and business relations eager to profit from the development of unsettled lands in the British colony of New York.
The Hardenburgh Patent went unsurveyed and unsettled for nearly 40 years, although shares in it were traded regularly, including to Robert R. Livingston, who made a gift of 5,000 acres in the New Kingston valley to 100 people who had lost their houses when Kingston was burned during the Revolution.
Patentees advertised for people to lease lots within their tracts and so, landless, they came — Revolutionary War veterans, Dutch emigrants from the Hudson Valley, Irish and Scottish immigrants — to carve hardscrabble farms out of forested lands in the Catskills. But opportunity became oppression when lessees, who paid annual rents of livestock, crops and cash but could not outright purchase their farms, realized that privileged distant landlords were profiting from their labors.
The Anti-Rent War of the 1840s involved many Middletown farmers who banded together in "calico Indian" disguises to thwart farm evictions, harass sheriff's deputies and protest the feudal system. The conflict came to a head with the shooting death in 1845 of Undersheriff Osman Steele in Andes. The lease-hold system of the great land patents was soon abolished legislatively.
Among the settlers to have signed leases were four Dutch families who came to the valley of the East Branch from Ulster County in 1763. Five more families joined them during the next eight years; all are believed to have maintained friendly relations with the Indians until the time of the Revolution, when the Europeans went back to Ulster County for the duration of the conflict. By the time the settlers returned to Middletown, the Indians had been driven westward.
Some Hudson Valley and New England emigrants who arrived in the 1790s built mills and other industries to serve their farm neighbors. A few of them brought enslaved people with them to work in mills, farms and homes. Enumerated as unnamed 'slaves' on federal census records through 1820, these African-American men, women and children were freed in New York State in 1827.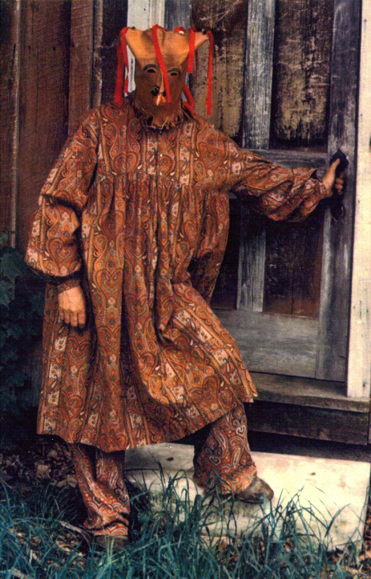 The Town of Middletown was incorporated in 1789 as a part of Ulster County, being formed from the towns of Woodstock and Rochester. It took its name from its central location within the territory drained by the Hudson, Delaware and Susquehanna rivers, the Delaware being the middle valley and the town of Middletown lying within it.
Delaware County was established in 1797, and the Town of Middletown was placed within its boundaries. It made up more than half of the new 1,400-square-mile county, covering all of the present towns of Roxbury, Bovina, Middletown, Andes, Colchester and Hancock; nearly all of Stamford, a large part of Delhi, Hamden, Walton and Tompkins, and a small portion of Shandaken in Ulster county.
Today, Middletown's 98 square miles includes two incorporated villages (Margaretville and Fleischmanns) and several unincorporated hamlets. Most of these communities developed along the East Branch of the Delaware River and its tributaries, the Bataviakill, Bushkill, Dry Brook, Mill Brook and Plattekill, because waterways provided transportation, drinking water for humans and livestock, and power to run mills and early industries. In Halcottsville, for example, the East Branch powered a grist mill, a fulling (wool felting) mill and other small businesses, and generated electricity for the hamlet. But Arena's location on the East Branch proved to be a liability when New York City claimed the hamlet and three others further downstream in order to build the Pepacton Reservoir.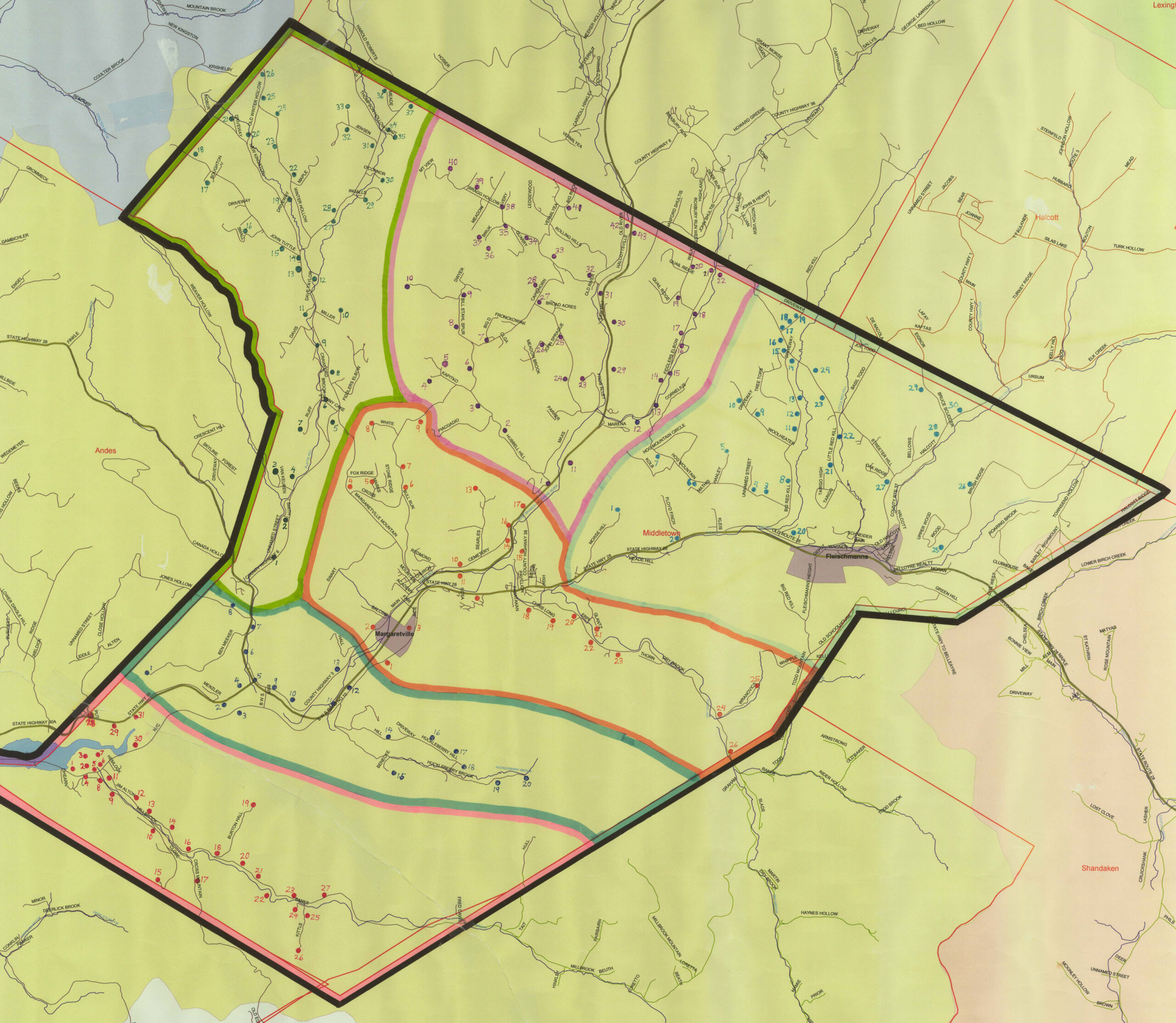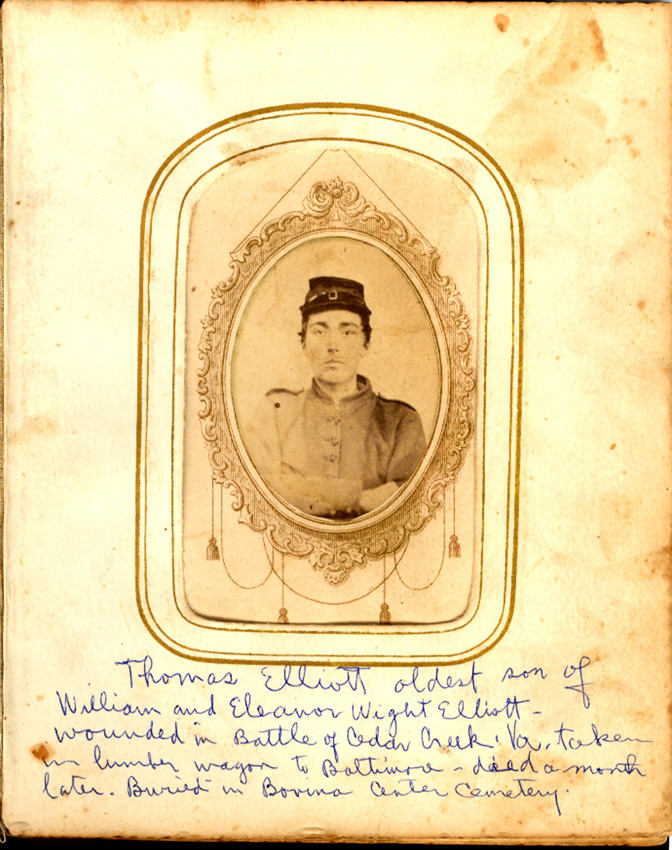 Middletown's men and women have always answered their country's call when war or conflict threatens. The town's cemeteries are filled with veterans of the Revolutionary War, the War of 1812, the Civil War, the Spanish-American War, World Wars I and II, Korea, Vietnam, and more recent conflicts. HSM has documented more than 730 veterans in 16 area cemeteries. An impressive exhibit of more than 400 WWII era veterans can be seen in the American Legion Post 216 hall in Margaretville.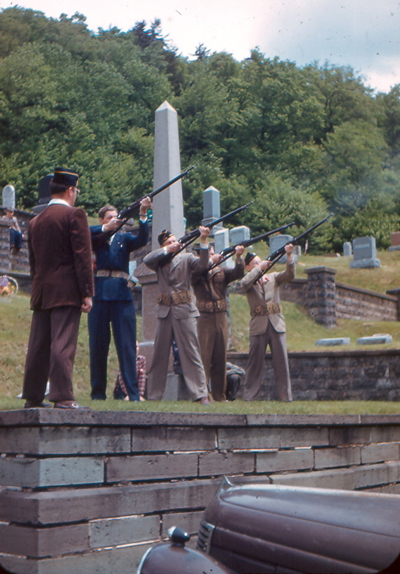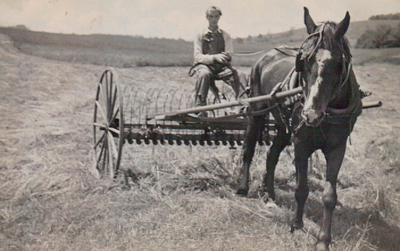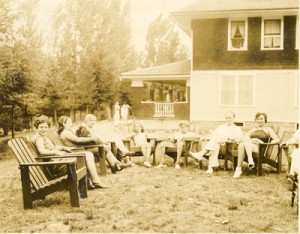 Subsistence agriculture was a way of life for the town's first 150 years, when most of the population lived on small farms that produced the family's food, clothing, building materials and other necessities. Wool, butter, milk, bluestone, lumber and in the early 20th century, cauliflower and Brussels sprouts, provided cash to buy things a farmer couldn't produce.
Gradually, farms grew their dairy herds to boost milk income, but it was never an easy way to make a living in a region containing "two stones for every dirt." Add to that the fluctuating, artificially controlled milk pricing system and most farms opted to sell their herds. In Middletown, where there were still approximately 200 dairy farms in 1950, only a few are operating today.
Tourists became a mainstay of the Middletown economy after the Ulster & Delaware Railroad arrived in 1871, and the Delaware & Eastern (later the Delaware & Northern) in 1906. Hotels and boarding houses opened to accommodate visitors from New York City and the Hudson Valley. Some families stayed for a month or an entire summer, the men commuting on "husband trains" to join their wives and children for country weekends before returning to jobs in the city. Fleischmanns was especially noted for its many hotels.
Industries have flourished and died as the need for their products arose then vanished. A wood acid factory in Arkville operated from 1900-1920 producing charcoal, acetate of lime, acetic acid and wood alcohol used in manufacturing woolen dyes, solvents, antifreeze, formaldehyde, and cordite, a smokeless substitute for gunpowder. Synthetic chemicals developed during and shortly after World War I made the plant obsolete.
There were several tanneries along Middletown waterways that produced leather for boots, horse tack, straps and other goods. The tannery that gave the name to Clark's Factory (now Dunraven) processed untold thousands of cow hides into leather from the 1820s through the 1860s. The end of the Civil War reduced the demand for leather shoes and goods and the tannery closed.
There were once many creameries and processing stations in the town of Middletown handling milk from hundreds of local farms. One, in Kelly Corners, made cream cheese. As farmers sold their dairy herds, the creameries folded, too.
Outdoor recreation has played a significant role in Middletown's economy. Long recognized as a premier fishing destination, it has attracted wealthy anglers who are members of exclusive fishing clubs, as well as travelers taking advantage of public fishing access sites. Middletown has also benefitted by proximity to the New York State Catskill Park and Forest Preserve, which have drawn hikers, campers and hunters for a century. The State-owned Belleayre Ski Center in Highmount, established in 1950, has brought thousands of snow-lovers to the area, and many have purchased homes and property here.
The extension of internet and cell phone access to some of the furthest reaches of the Catskills has made working from home more common and allowed many who were previously weekend residents to stay here while they work remotely.
Middletown's children learned the Three Rs and a whole lot more at 26 District schools, spaced so that children wouldn't have more than three miles to walk to school. Most of these were one-room schoolhouses where sometimes all 12 grades were taught by the same teacher in the same classroom. The 1860s Stone School in Dunraven is a surviving example of this type of early education.
Arkville's District 20 accommodated primary and junior high classes, and Fleischmanns and Margaretville (Districts 21 and 17) taught children through 12th grade.
In 1937, the school system was centralized with students throughout the town attending the newly built Margaretville Central School.