Village of Fleischmanns and Clovesville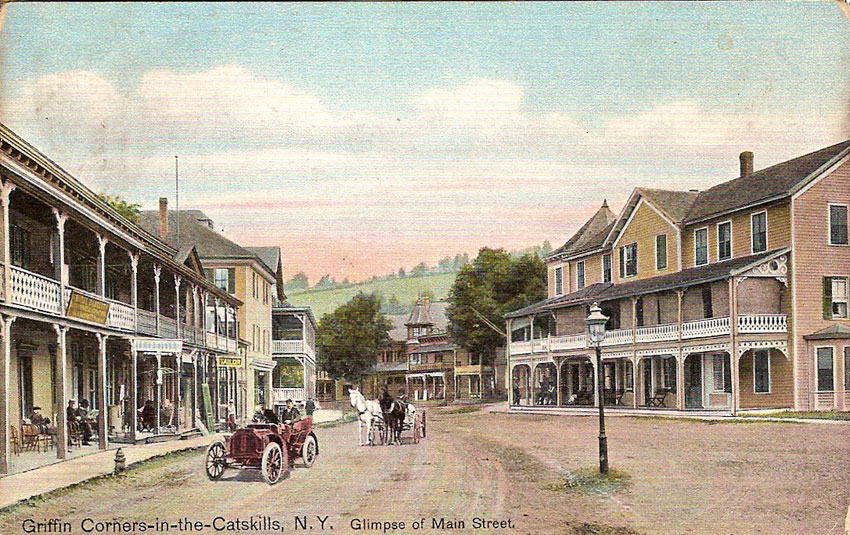 The Village of Fleischmanns was created in 1913, consolidating what had been two separate areas — Griffin(s) Corners and Fleischmanns, centered around the Ulster & Delaware Railroad depot and the Fleischmanns family compound at the east end of the hamlet. The dividing line between the two areas was Bridge St, where a former hotel (later housing an auction house) still stands.
Dating back to at least the 1830s, the hamlet of Griffin's Corners was named after Matthew Griffin, an early settler. He was s lawyer, ran a hotel and store and even served in the State Assembly. The Griffin's Corners Post Office opened in 1851 and he was its first Postmaster.
In the 1870s, a railroad from Kingston was built, eventually known as the Ulster & Delaware Railroad. It opened up the area to visitors from New York City, and from farther away. Local farmers quickly found that they could make money hosting summer visitors trying to escape the heat in pre-air conditioned New York. A number of hotels and guest houses were built and Griffin's Corners/Fleischmanns developed a reputation as a welcoming, vibrant vacation spot.
In the late 1800s, the Blish and Lasher families which had owned large farms sold building lots to well-heeled newcomers, many of whom were enterprising German and Hungarian immigrants. The wealthy Fleischmann family (of yeast and distilling fame and fortune) purchased land above the railroad overlooking Griffin's Corners, where they built a family compound with five mansions, a massive riding arena and other accoutrements. The Cincinnati-based family arrived in town on their private rail car, greeted by a local band whose musicians were outfitted by the Fleischmanns. Relatives, friends and associates of the prominent family also built or purchased summer homes here.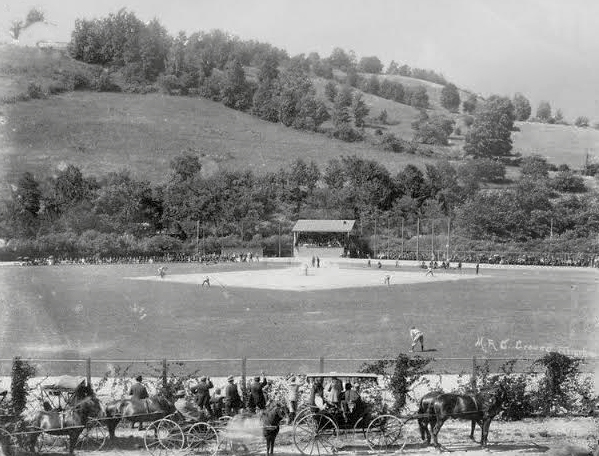 The Fleischmanns also developed a baseball park on Wagner Avenue where Julius and Max Fleischmann organized the semi-pro Mountain Athletic Club in 1895. The team's roster included future Hall of Famers and other talented players who attracted thousands of fans to see them play teams from around the Northeast. When the Fleischmanns left town in 1914 and donated the park for public use in perpetuity, the expanded Village renamed itself Fleischmanns in their honor. That field is still the focus of recreation, with the re-created Mountain Athletic Club playing vintage baseball from spring until fall. The MAC Grounds were named to the State and National Registers of Historic Places in 2021.
Another prominent area resident was Dr. Alexander Skene, a New York City physician who built an estate in nearby Highmount. Skene Memorial Library was constructed in 1901 in memory of Dr. Skene by his widow. Part of the funds came from Andrew Carnegie, a boyhood friend of the doctor. Listed on the State and National Registers of Historic Places, it is still a vital community hub.
The list of notable turn of the century residents includes Metropolitan Opera conductor Anton Seidl; members of the Lehman family of investment banking fame; and architect Albert Wagner who built a magnificent estate anchoring the avenue that bears his name.
A gifted American painter, Paul Sawyier of Kentucky, spent the last years of his life here in the 1910s, and painted many local scenes. Celebrity Gertrude Berg of radio and TV fame got her start in Fleischmanns. Born Tillie Edelstein in Harlem in 1898, the woman who became known to millions of radio listeners as Molly Goldberg first entertained guests at her parents' hotel, a mansion once owned by the Fleischmann family.
In 1906, work began on a dam just north of the Village center to create Lake Switzerland. A number of large hotels were quickly built there and for many years, the lake was the focus for recreation. In the winter, ice was harvested from the lake to provide cold storage in pre-refrigeration days–almost every home and hotel had an ice house.
Dozens of hotels, large and small, most welcoming Jewish clientele, added to summer crowds that filled streets and pocketbooks of merchants and lodging proprietors. Jewish businesspeople, farmers and visitors also supported the establishment of Bnai Israel Congregation in 1918. The synagogue, now on the historic places registers, was constructed in the early 1920s.
The advent of the automobile brought about a new style of vacationing: motor courts (later motels) replaced the earlier hotels. Highmount and Belleayre Mountain Ski Centers, which opened in 1946 and 1950, respectively, provided a new boost. instead of just a summer destination, Fleischmanns became a year-round vacation destination.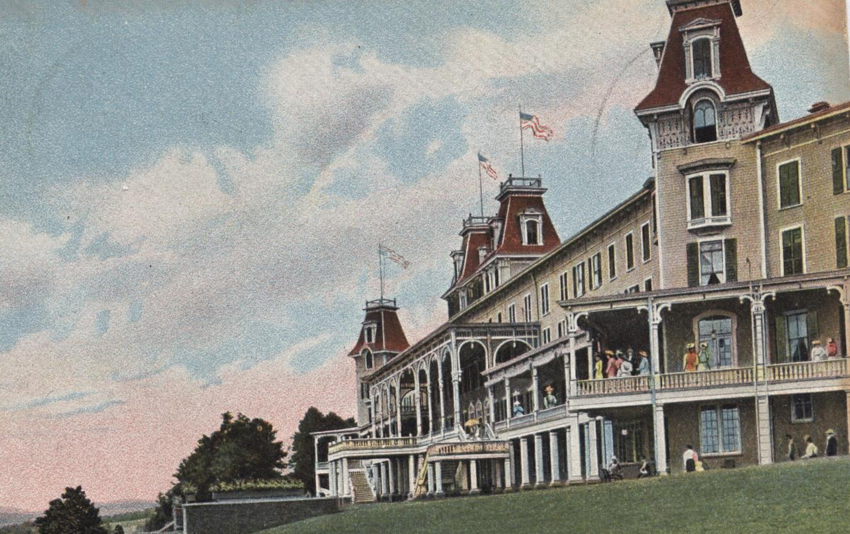 The economy gradually shifted to one based on second homeowners. Other groups, including Mexican- and Asian-Americans, Central and South American immigrants, and Orthodox Jewish followers have added to the diversity of today's Fleischmanns.

The hamlet of Clovesville, just west of Griffins Corners, stretched for about a mile along old Route 28 (then called Main Street). This was a busy, industrial hamlet that included two tanneries, a sawmill and a woolen mill all utilizing the waters of the Bush Kill and the Red Kill streams. Irish immigrants in particular found jobs in the tanneries. Many of these workers, their families and descendants lie in a small burial ground known as the Irish or Catholic Cemetery across old Route 28 from the larger Clovesville Cemetery.
There was a blacksmith shop, stores a post office and a Methodist Church, which later became Clovesville Bible Baptist Church and more recently Cornerstone Bible Baptist Church.
A school, District 8, was situated near where Big Red Kill Road meets old Route 28. This building still stands as a private residence. A creamery operated at that intersection from about 1900 to 1915 when it burned.
VILLAGE OF FLEISCHMANNS AND CLOVESVILLE PHOTO GALLERY
Click for a larger view of each image…