PRESERVATION PROJECTS:
Schools
A BRIEF HISTORY OF EDUCATION IN OUR TOWN
The earliest settlers in Middletown likely schooled their children in one another's homes before constructing simple one-room log schools. They were usually located 3 miles apart, 'easy' walking distance, and were rebuilt and improved as needed.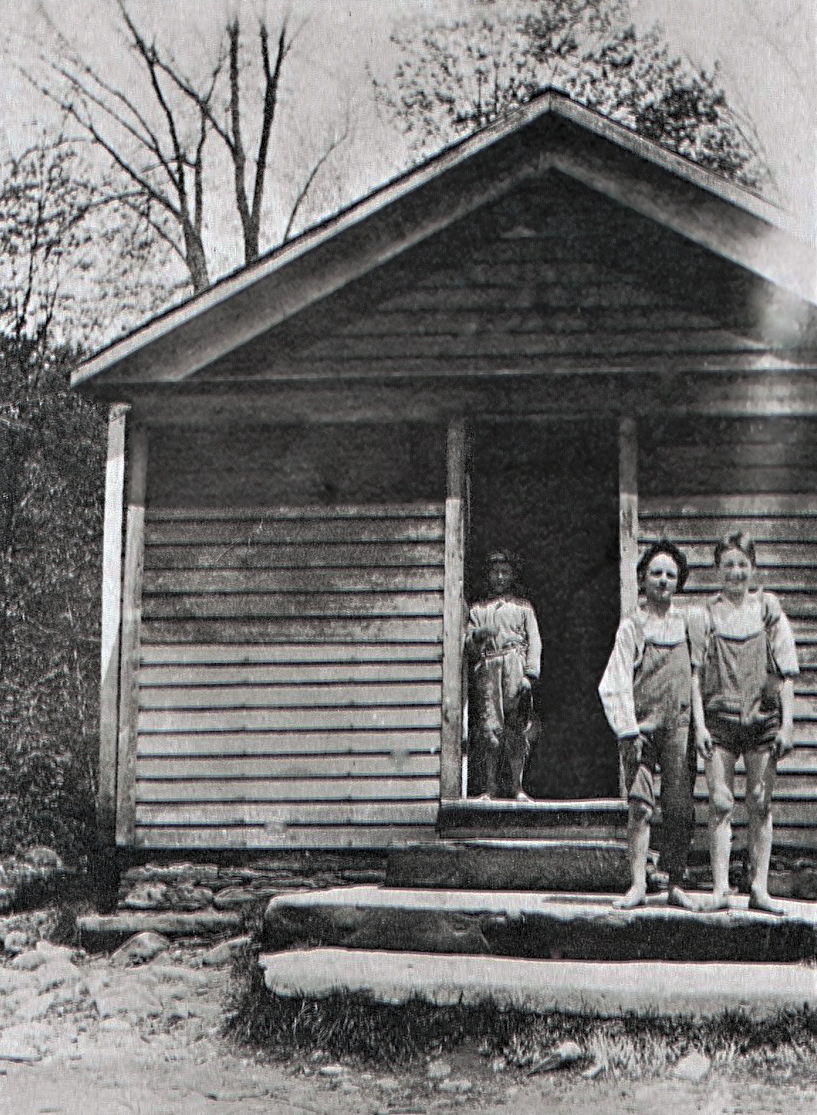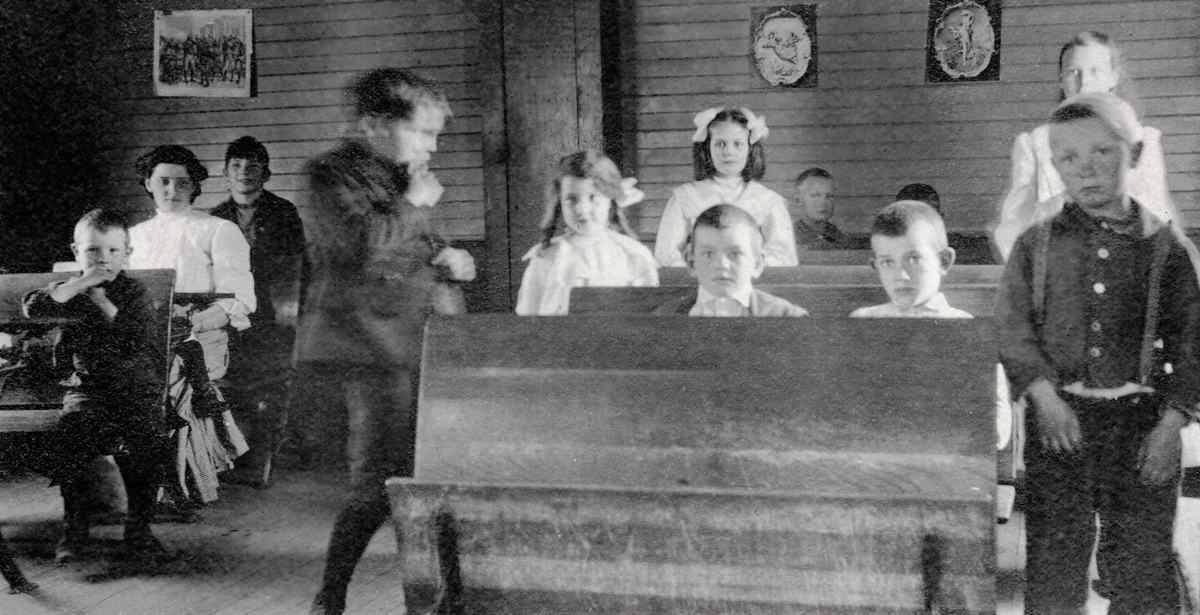 Schoolhouses were typically also used for religious services and ceremonies, as well as Sunday School.
In 1814, only 4 of 19 Districts in the Town held school, and then only for 3 months. District 15 – Clark's Factory (Dunraven) had 59 students that year. In 1836, District 8 (Clovesville) taught 99 of 110 school-age children. Both these districts had large tanneries and other industries that made them population centers.
Children attended from about age 6 to perhaps 15 (Grades 1-8). Instruction was offered in two terms, summer and winter, when older boys would usually attend since they were needed on the farm in the warmer months.
Teachers were often barely older than their oldest students, having had at least some secondary schooling or, later, a year at a "Normal School" (teacher training program; Margaretville offered such a program).
The era of the one-room school came to a close with the movement to centralize in the 1930s. Some continued for several years for primary grade students, but eventually, all one-room schools either burned, fell or were torn down, or were converted to residences and hunting camps.
OUR PROJECT
One-room school houses, once as common as barns in our rural locale, have all but disappeared in the decades since they were abandoned in the move to larger centralized school districts. In 2019, HSM undertook a project to collect photographs, first-person accounts from former students and teachers, school souvenirs, lesson books and other materials. We also scanned official records and correspondence archived at the NYS Archives in Albany and Delaware County Clerk's Office in Delhi.
The result was a folder of information on each of 30 districts that operated within Middletown and in the surrounding area. Also researched were the graded schools of Arkville, Margaretville and Fleischmanns, the latter operating as an independent district until 1968 when its students joined Margaretville Central School, which had centralized in 1939.
An exhibit on early education in Middletown was mounted at the Cauliflower Festival in 2021. Photos and documents from that exhibit are posted here.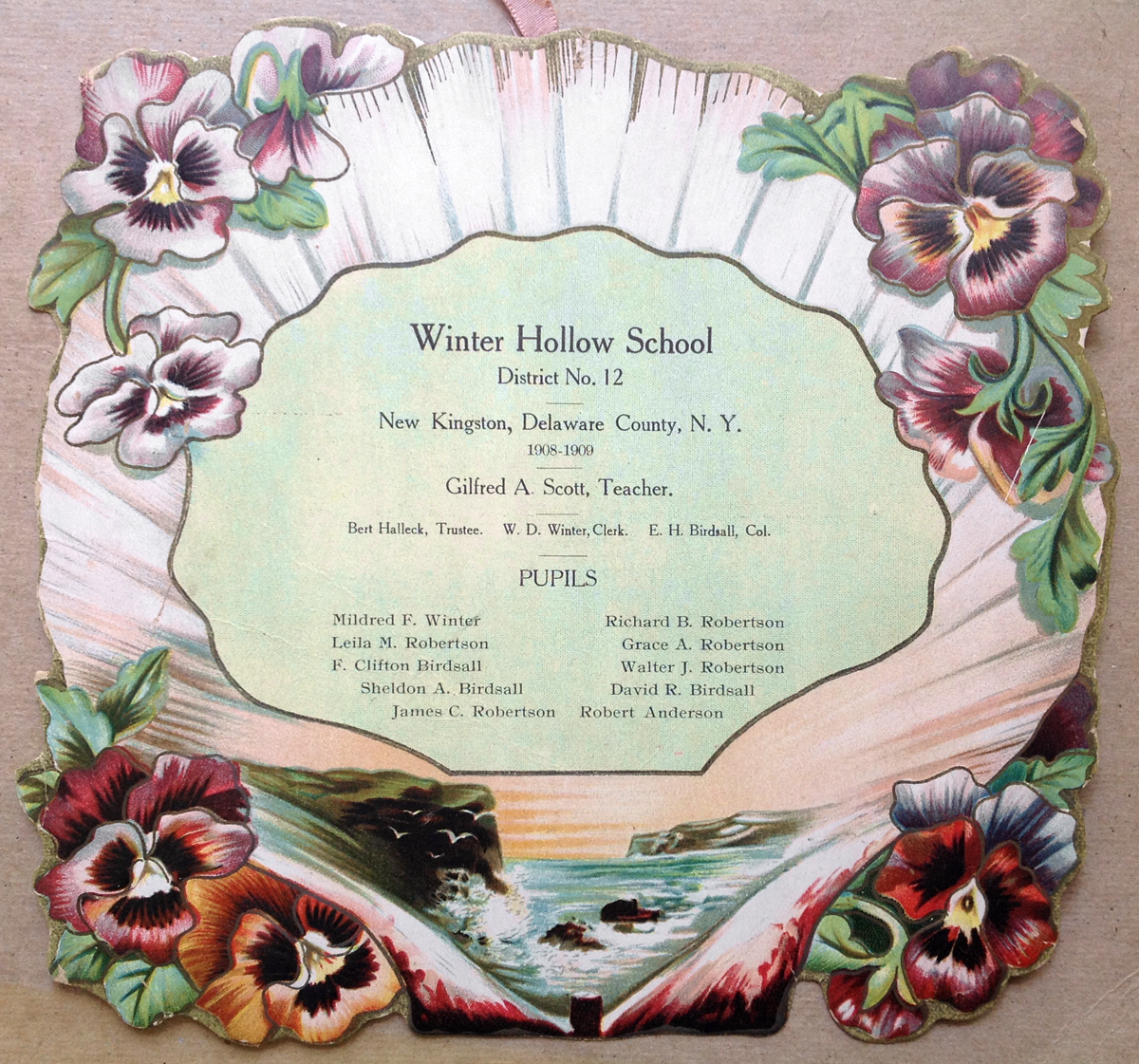 SCHOOLS IN MIDDLETOWN AND VICINITY (30)
District Numbers changed as schools merged, were deactivated, relocated or redesignated.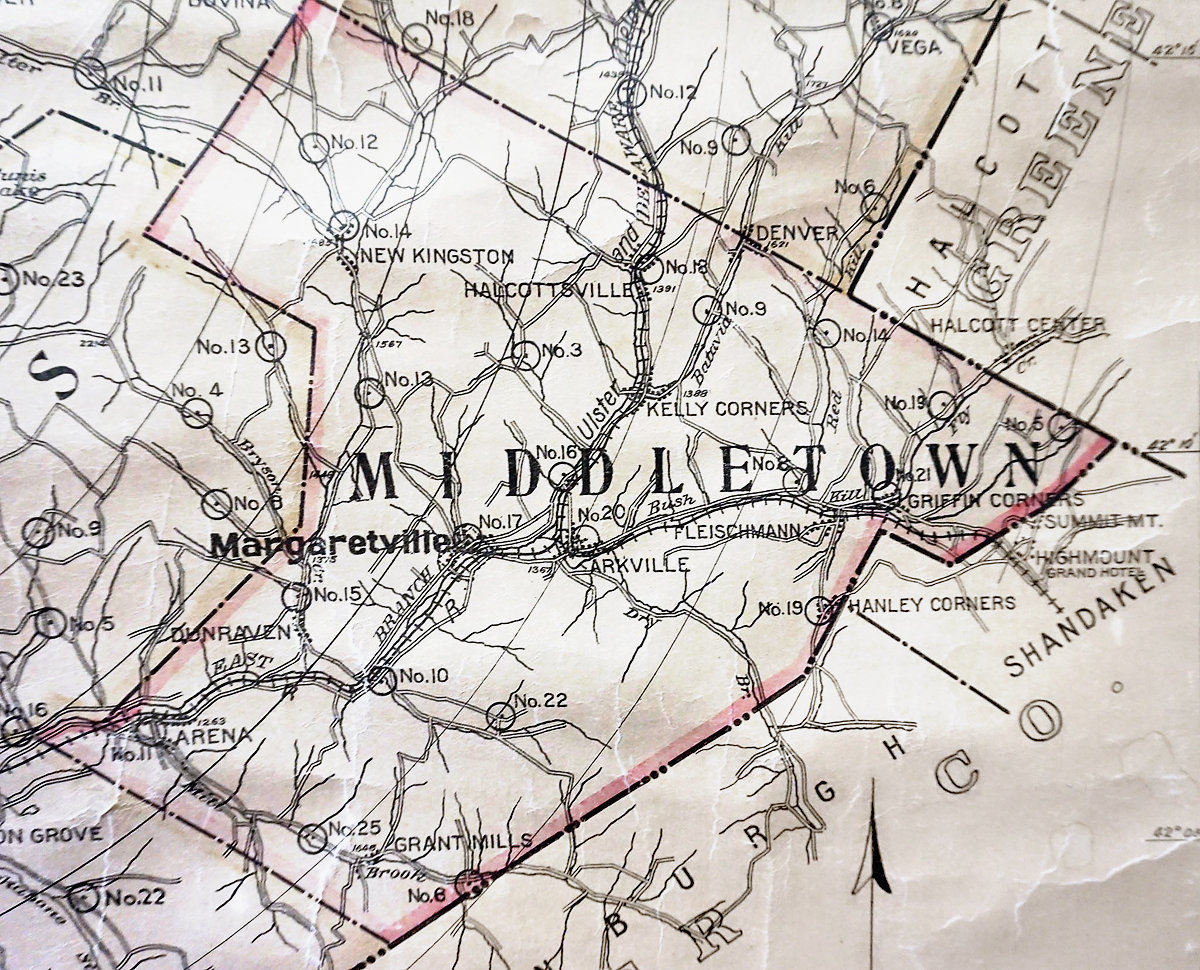 Margaretville/
Arkville/Halcottsville/
Dry Brook/Denver area
#17 Margaretville
#20 Arkville
#2, 26, 18 Kelly Corners
#3 Hubbell Hill
#1 Bragg Hollow
#16 Austin's Bridge (aka Hoffmans Corners)
#2 Lower Dry Brook (Mapledale)
#1 Upper Dry Brook (Seager, Hardenburgh)
#9 Pink Street (Denver)
#26 Hamlet of Halcottsville
#7, 12 Cold Spring School (aka Scrubville; Joint with Roxbury)
Fleischmanns area
#21 Hamlet of Griffin Corners
#8 Clovesville
#14 Little Redkill aka Lower Bedell c. 1923
#7, 19 Portertown (joint with Halcott)
#16, 5 Townsend Hollow (joint with Halcott)
#19, 7 Hanley Corners (aka Fleischmanns Heights; Todd Mtn Rd, joint with Shandaken)
#6 Upper Bedell, (Roxbury)
New Kingston
#4, 14, 24 Hamlet of New Kingston
#12 Winter Hollow (Bovina Mtn Rd)
#13 Johnny Cake Lane/Co. Rte. 6
#13 Weaver Hollow (joint with Andes, aka Riverbend School?)
#18 Thompson Hollow (actually Harold Roberts Rd, joint with Roxbury)
Dunraven /
Millbrook /
Huckleberry Brook
#10 Stone School
#15 Dunraven
#23 Cross Mountain (joint with Andes)
#25 Grant Mills (when it combined with #23, new school was built, also numbered 25, often referred to as Millbrook School till it closed)
#4 Belleayre (Millbrook)
#22 Upper Huckleberry Brook
#9 Kelly Hollow (Millbrook)
#11 Arena (Lumberville)
SCHOOL MEMORIES
The following are a collection of Middletown area school memories.
To read the quotes and author, click on the "+" at the right side of each box.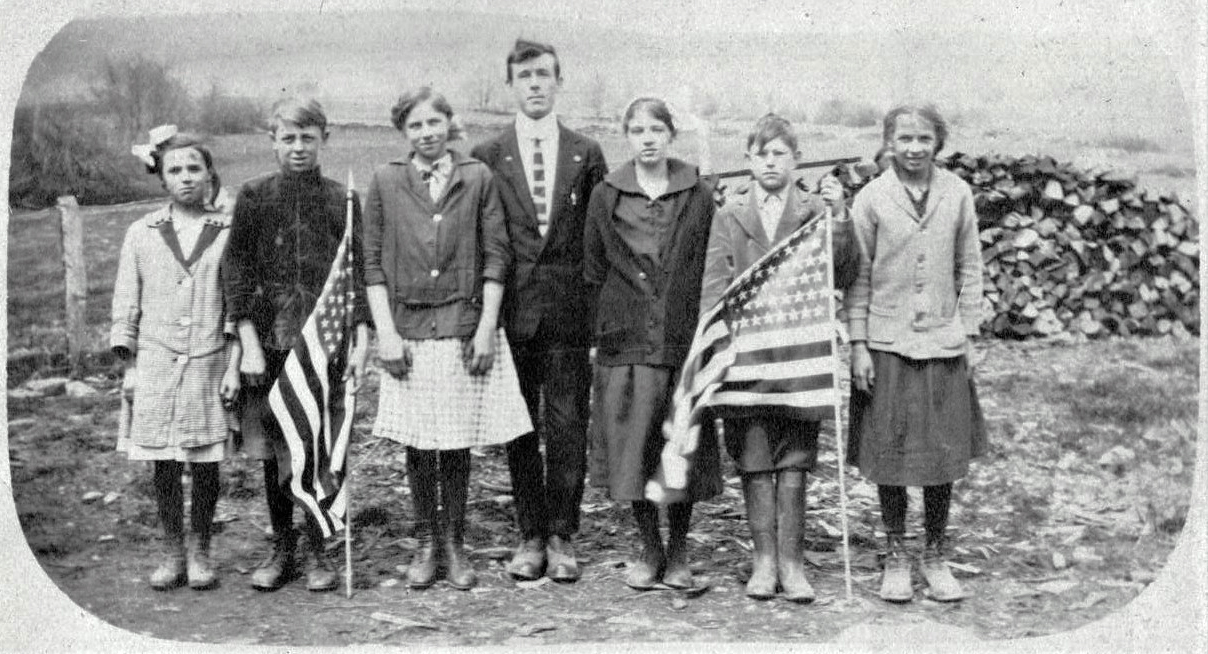 Oneonta Normal School...
"We went to Oneonta Normal for six weeks, they gave us a certificate and said we could go out and teach school. Every once in a while we'd go back for a refresher course and were given a certificate to teach for three more years then for ten."
C. LLOYD MANN
Describing the life of a teacher in the 1920s
Treasures of the One Room School, Delaware County (1988)
by Pamela Hillebrand
When I Was In Fifth Grade...
"Albert Hollenbeck was teacher when I was in fifth grade. He was an old man who used to go to sleep. He'd bunk his head on the window casing and wake up."
HAZEL TODD FAIRBAIRN
Describing Hanley Corners School in the 19-teens
Treasures of the One Room School, Delaware County (1988)
by Pamela Hillebrand
I Remember Arbor Day...
"I remember one Arbor Day. As I was the largest boy, probably in the 7th or 8th grade, they sort of elected me to get a tree to plant. So I went up above where we lived and dug up a nice young hard maple. This I carried to school the next morning and the children and teacher got together and planted it and watered it quite often. It grew real well and is still there and is quite a large tree now. The school is gone."
LUMEN SEARLE
Remembering the Austin's Bridge School of the 1920s in
Treasures of the One Room School, Delaware County (1988)
by Pamela Hillebrand
You Didn't Fool Around With Him...
"Mr. (Leslie) Streeter was an awful good teacher, a wonderful man. You didn't fool around with him, or he'd collar you. I remember holding my hand out one time and bam! Getting hit with a ruler. But he was always working for the kids and on Saturdays had Farm Shop in 4-H. I guess we didn't appreciate then all he did for us."
RUSSELL MORRISON
Remembering the Portertown School of the 1930s in
Treasures of the One Room School, Delaware County (1988)
by Pamela Hillebrand
My Grandfather Walked Over The Hill...
"My grandfather walked over the hill, him and his brothers walked over the hill to that school, and I went to school in that schoolhouse. I started in 1932 in first grade and I went there about five years. And then I went on down to Fleischmanns school 'cause I wanted to play and to learn to read music."
HILTON KELLY
In 2010 interview about attending District 14, Bedell School
We'd Go Up In The Woods...
"We had long recesses. We'd go up in the woods, sit on a big rock, listen to the birds, and chatter. It was lovely."
JANE LONG DILLEY
in a 2021 interview about attending Old Winter Hollow School, New Kingston in the 1930s
Fresh Fruit in Season...
"On Fridays over on the side of the foyer they had a table all set up, and when you left school they'd give you a bag of fruit, an apple, maybe an orange, maybe raspberries or blackberries. Fresh fruit in season, dried fruit like apricots or prunes in the winter. Maybe they thought we weren't getting fruit at home . . ."
SHIRLEY DUBOIS SANFORD
In a 2020 interview about her childhood in Arena, 1941-1953
I Walked Home to Redkill...
"I rode to school in the morning with either the mail carrier or someone going to the village, but in the afternoon I walked home (to Redkill). A group of us walked together. Those who lived on Hog Mountain walked me home, then cut through the fields and continued to their homes. We had great times . . . it was a two-mile walk and fun all the way!"
FRANCES MARKLE DAVIS
writing in 2009 of her experiences at District 8, Clovesville School in 1920s
A Privy of Size Enough Accommodate...
At the Annual Meeting of District 18 inhabitants held at the schoolhouse (Kelly Corners) Oct. 14, 1873 it was
". . . voted that the trustee (Nelson Beardslee) has the authority to traid land with F. D. Kelley as talked by present meeting and build a privy of size enough to accommodate the schollars of said school."
FROM SCHOOL DISTRICT #18 RECORD BOOK
in Hubbell family collection
He Knew Only German or "High Dutch"...
"Chauncey Hull told me his grandmother said that the first school in New Kingston was held in the house of Philip Yaple. The teacher was a man named Donaldson from over near Andes and he knew only German or 'high Dutch.' So Mr. Yaple, who spoke German, Dutch and English, had to be the interpreter for a time."
School Principal and local historian
LINCOLN LONG
writing in the 1920s
From The Long Papers
A Large American Flag...
"Mr. Peter Hoffman, Civil War veteran, has very generously donated to the Arkville Graded School a large American flag. It is his desire that the pupils may realize the full significance of the flag and to that end it is to be used in the Assembly room regularly for the Flag Salute and other patriotic exercises."
April 15, 1921,
Catskill Mountain News
But To Remove the Same...
"Mr. Cornell proposes on behalf of this company to pay your school district $200 allowing the district to retain possession of the present School building but to remove the same within a reasonable time. . . "
FRANK J. FECKY
Ulster & Delaware Railroad Company, Kingston
to Noah Dimmick, Deans Corners (Arkville), March 6, 1876
The Contract Got Passed Around...
When the Huckleberry Brook School closed, students were transported to Margaretville School by individuals until buses were provided. Leonard Utter's father got the contract to transport kids (4 or 5) one year. Other drivers were Mr. and Mrs. Marks and Decker Merritt.
"The job didn't pay enough to buy a new car, but it could buy you a used car. The contract got passed around the community so everybody could get a used car at least."
LEONARD UTTER
Interviewed April, 2020
The Registration For The Grades Is...
Fleischmanns School Notes
The Fleischmanns high school opened on Monday, September 9th.
The registration for the grades is as follows:
Mrs. Preston 21;
Mrs. Newcomb 22;
Mrs. Williams 21;
Mrs. Alton 26.
The high school registration by years is as follows:
Freshmen 42;
Sophomores 39;
Juniors 30;
Seniors 23.
Of the 134 in the high school 98 are from outside districts. There are high school pupils in the school from Bedell, Oliverea, Pine Hill, Halcott Center, Shandaken, Clovesville, Allaben, Highmount, Phoenicia, Mount Tremper, Big Indian, Townsend Hollow and Margaretville.
Sept. 20, 1935
Catskill Mountain News
SCHOOLS PHOTO GALLERY
Click for a larger view of each image…