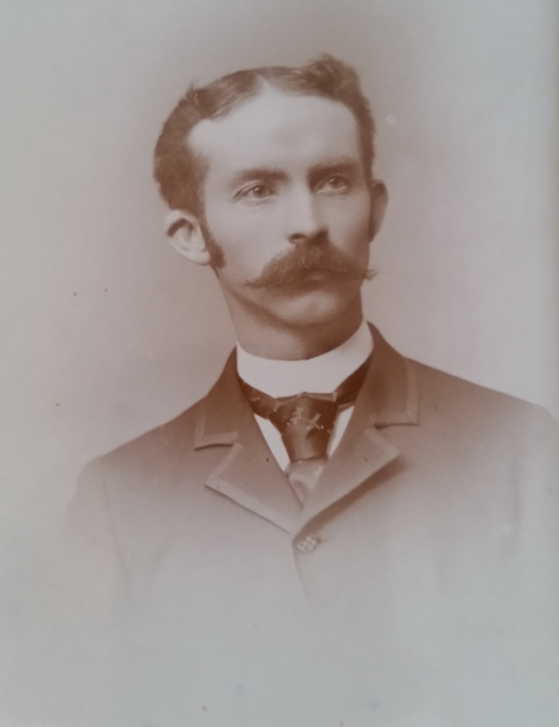 Among HSM programs and events canceled by the COVID 19 pandemic was the Living History Tour of Margaretville Cemetery. Among the characters who had planned to greet visitors on June 20 was Arthur Leslie Dumond, stone carver, lamplighter and school janitor.
Leslie (he went by his middle name) was born in 1860 to Mary Jane Hewitt and Nathan Osborn. He was born in Westchester County, was educated at Delaware Literary Institute and Andes Academy and, like his father, was a schoolteacher as a young man. But he had a love of stone and of making something beautiful out of unforgiving granite, so he went to a 'bas relief' sculpture school in Tennessee and became a marble and monument dealer. Many local headstones bear his work.
To make ends meet, Leslie also served as the Village of Margaretville's lamplighter. Local streets and buildings were first lit by kerosene in the early 1870s. Remembered Catskill Mountain News publisher Clarke Sanford in 1948, "Many an evening I have seen him go along the village street, can of kerosene and cleaning rag in one hand, short stepladder in the other. He visited each lamp post, cleaned the smoked chimneys, filled the lamps, lighted them and went his way. Neither rain nor mud or high wind kept him from his duty."
Acetylene gas lamps replaced kerosene in 1905. In October that year the Margaretville Gas Light Company began piping the streets. Reported the News, "They have a gang of Italians borrowed from the D&E RR. There are 340 rods (more than one mile) of ditch to dig. Back streets will be ditched first. The work was begun in front of Herman Rottermund residence on Walnut Street. The tank and the generator will be located in front of Byron L. Searles'. The company expects to have the new gas in houses by Nov. 1."
New iron street lamp posts were installed. The Margaretville High School, Presbyterian Church, hotels, homes and shops were all piped for gas.
Remembered Sanford, "Then (Leslie) needed only matches, the lamps were turned off at 11 p. m. by small alarm clocks, one attached to each lamp. The clocks had to be wound and set each night." Leslie soon turned the job over to others, and took a job as the school janitor. He was a much beloved figure in town, and passed away in 1948.
Consider this a preview of the 2021 cemetery tour, when Leslie the Lamplighter will reveal more details about his life.