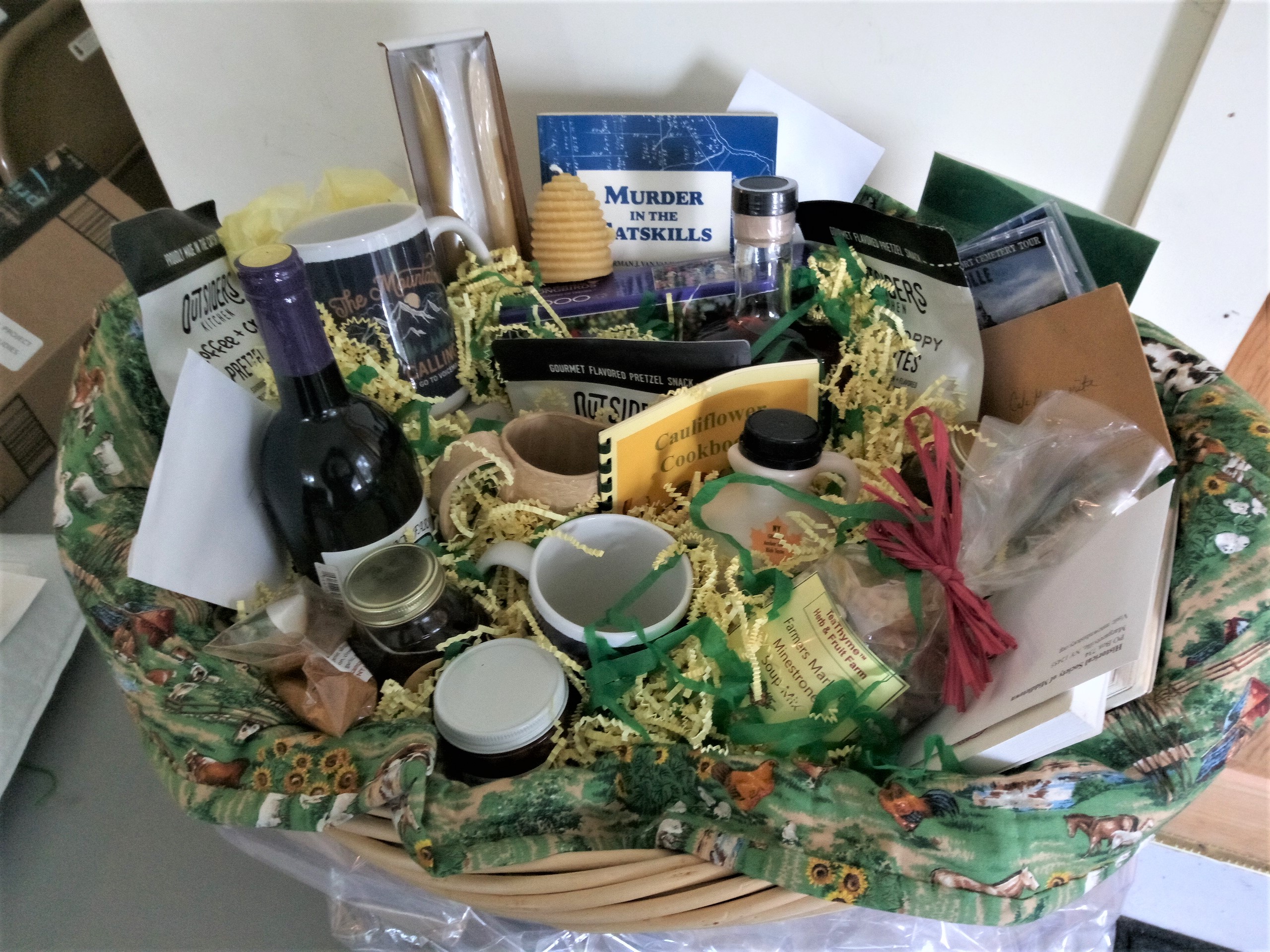 This treasure trove of items made in or about the Catskills is the HSM raffle item this year.
"A Tisket, a Tasket: The Catskills in a Basket" was assembled by fundraising volunteers Jackie Purdy, Anne Sanford and Marilyn Pitetti.
The large wicker laundry basket contains more than $400 worth of locally made or sourced food products, books, home goods and more. These items will provide endless enjoyment as well as gift items for your favorite people.
You can buy tickets at our upcoming events (check our calendar), and at select community events. For information or to make other arrangements to get tickets, contact us at history@catskill.net.
The drawing will be held at the Annual Meeting October 22.
Items in the basket
Cole Hill Honey (2 jars) and beeswax candles
Union Grove Maple Spirit (750 ml)
Happy Giraffe 'Mountains are Calling' mugs (2)
Hubbell Farm Maple Syrup (quart)
Outsiders pretzel snacks (3 packages)
Blue Sky Farm blueberry wine
Shaver Hill Farm maple walnut topping
Gift Certificates
               Home-made pie by Barbara Moses
               $100 Locust Grove Soaps
               $10, Café Marguerite
               $15 Happy Giraffe
Cauliflower Festival canvas bag
North American Songbirds puzzle
Hand-made pottery pitcher by Ros Welchman
Tea Thyme Herb and Fruit Farm Farmers Market Minestrone Soup Mix
Halcottsville and New Kingston Cemetery Tour DVDs
Bebert's Morrocan Condiments spice mix
Books
               When Cauliflower was King
               Cauliflower Cookbook
               Catskill Crafts
               Murder in the Catskills
               U&DRR 1902 Catskills guide
Sincere thanks to the donors:
Pat and Randy Moore
Yaekels Liquor Store
Doris Warner
Anne Sanford
Marilyn Pitetti
Jackie Purdy
Barbara Moses
Central Catskills Chamber of Commerce
Ros Welchman
Locust Grove Soap Co.